We've finally finished our website (with Katrin mastering wordpress in just a few days – she is officially a winter queen) and leaflet, so we're ready to talk to the world again. There will be a German and Danish version in a few weeks time but hopefully you'll enjoy exploring it. We still have our listings on airbnb but we hope more people will find us at www.stavehol.dk and save themselves (and us) paying the fees.
Firstly a very belated Happy New Year and a big thank you to all of our fabulous guests from 2015. You were all so wonderful and made our first year at Stavehøl so enjoyable and rewarding. We're so happy that you all enjoyed staying with us, especially considering the rather frantic preparations. We arrived in June and finished getting the holiday flats ready on the very morning our first guests arrived! It's been much busier than we ever dreamed possible with people in the autumn and even spending New Year with us  – we were very glad of the company in the darkest of months, though our wood store took a bit of a hit! As a little gesture of thanks (and in hope of seeing some of you again) if you want to come to Stavehøl again in 2016 or 2017 we'll give you 10% off the price of your stay.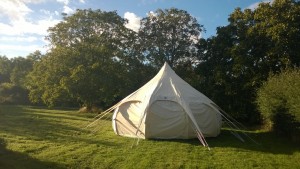 Now we're busy getting ready for 2016 and really looking forward to welcoming more people to Stavehøl. We're making a few changes this summer with the arrival of 2 new lotus bell tents. The yurt and the bell tents will be on their platforms in the meadow and woodland glade from mid July until the beginning of September. In this period the studio flat will be closed as it will be the kitchen, bathrooms and lounge for guests camping at Stavehøl. The studio's getting a lovely new bathroom (replacing the quirky alcove bed), a lick of paint and a new bed and sofa. Hopefully it will still be the cosy little place that so many loved last year. The 'big flat' has been a changed a little too with a new cosy lounge on the 'mezzanine' and some comfy 'loungers' for enjoying the garden and the night sky in comfort (thanks to Ulrike for the ideas).
I'm really hoping to do more guided walks for guests next year, so I've been visiting archaeological sites and doing some birdwatching in little bits of spare time. I really enjoyed the few I did last year so will try and push them a bit harder in 2016 – it's a great way of seeing parts of Bornholm well off the usual tourist tracks and gets me back to my ancient RSPB career roots.
We're surviving the winter so far and I'll tell you more about it in the next blog installment.
Bye for now, Phil
Stavehøl, January 2016