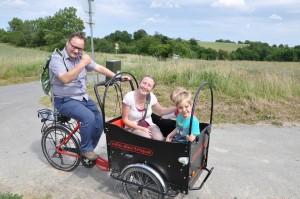 Bornholm is a fantastic island for cycling with hundreds of kilometres of largely traffic-free cycle ways and country lanes. There are routes through dense forests, cleft valleys, along rocky coasts and through the open fields. Except along its Southern coast, Bornholm is not flat so there can be a few hills to challenge and thrill you too. If you want fast high quality road cycling with some challenging hills then Bornholm can offer those too.
You can take your bike on the bus if you want to cover greater distances or just want to avoid a headwind. Or do as Bornholmers do and use your bike to get to the bus stops more quickly.
Stavehøl is a great base for a cycling holiday or as an overnight stop on your cycle tour. The traffic-free cycle way between Gudhjem and Østerlars (on the old railway line between Gudhjem and Aakirkeby) is just at the end of our meadow. We can arrange cycle hire for you and we always have cycle maps, pumps and puncture repair kits available.