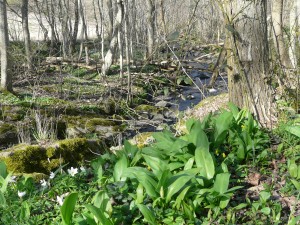 Our farmhouse sits within 2 hectares (4 acres) of meadows and woods between the two arms of the Kobbeå river (the Spagerå and the Præstebæk), just 100 metres from the 'otherwordly' Stavehøl waterfall.
Most of the land is lovely rolling meadow scattered with apple, cherry and walnut trees. Our rocky woodlands are filled with white carpets of anemones and wild garlic in the spring and have lots of hollows and rocky outcrops perfect for exploring and den making. Our own stretch of the Spagerå river has lots of pools, tree dams and rapids – perfect for splashing about in, whatever your age!
Stavehøl waterfall is Denmark's highest and is 7.2 metres high and 2 metres wide. A spectacular little cascade in the winter and spring, it can be little more than a trickle in the middle of summer.  It's name comes from the Bornholmsk words 'stabbe' and 'høl'. A 'stabbe' is a multi-stemmed knarly old tree (like the old oak tree that stands above the waterfall now), and a 'høl' is the deep dark pool below the cascade.
Stavehøl lies within what was a very important sacred landscape during the Iron-age and Viking periods – with Gudhjem being the 'home of the gods' and the place of many temples and 'holy sites'. Names in the landscape around Stavehøl like 'Thors ryg' (the hill of Thor) and 'Gamlevælde' (old realm) are testimony to the power and long-lasting mystery of our beautiful corner of Bornholm.
Come and share the magic with us!