Stavehøl lies between Østerlars and Gudhjem, 2 kilometres from Bornholm's eastern coast. The private access road to Stavehøl turns off the main road from Rønne to Gudhjem just a few metres after passing the round church in Østerlars.
We are right next to the cycle way between Østerlars and Melsted, 10 minutes cycle ride from the bus stop and supermarket in Østerlars and 15 minutes cycle from the sandy beach of Melsted and the lovely harbour town of Gudhjem.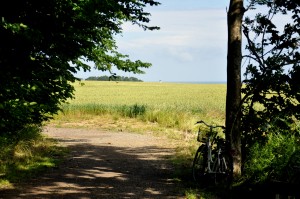 The regular (hourly) buses from the ferry port in Rønne (numbers 3 and 4) take 20-25 minutes to bus stops in Østerlars. From there we are just a level 10 minute cycle ride along the signposted traffic free cycle way.  For a complete set of bus timetables and route maps see www.bat.dk.
Getting to Bornholm
Regular flights from Copenhagen to Bornholm's own little airport outside Rønne take just 30 minutes and can be a reasonably cheap and civilised way to get here  – even managing to find the time to serve some coffee. See www.dat.dk.
The fast ferry from Ystad (in Sweden) to Rønne takes 1 hour and 20 minutes and runs up to 6 times a day at the peak of the tourist season (late July, early August) with 4 sailings for most of the year (see Bornholmslinjen). Bornholmerbussen and Kombardo run buses from Copenhagen and the airport to connect to these ferry departures with a total travelling time of around 3 hours from Copenhagen to Bornholm.
Travelling from Germany, central, western and eastern Europe there are a number of possible travel routes. All year round there is a ferry from Sassnitz on the island of Rügen to Rønne, which sails 3 times a week and takes 3 and a half hours. You can travel through Denmark to Ystad to catch the fast ferry (crossing over toll bridges and/or the Puttgarden to Rodby ferry). Alternatively you can sail on the day or overnight ferries from Travemunde (near Lübeck), Rostock or Świnoujście (in Poland) to Trelleborg, Malmö or Ystad. From Trelleborg or Malmö it's just a 50 minute journey to Ystad. See direct ferries for information, timetables and booking for all these routes.
You can also take the overnight ferry from Køge (just south of Copenhagen) to Rønne, which takes about 6 hours. This can be a very good option if you're arriving late into Denmark or if the ferry from Ystad is fully booked (which it can be at the height of the season). There's a passenger (and cycle) only ferry from Kolobrzeg (in Poland) to Nexø (on Bornholm's southeast coast) which takes 4 and a half hours and sails between April and October. During the high season from the end of June to the middle of August there are also ferries (cars and passengers) sailing every Saturday from Świnoujście with ttlines and polferries.
Lots of different ways to get here and we're always happy to give guidance on the best routes.
For 200 kr we can pick you from the airport or ferry, and we can pick you and/or your luggage up from the Østerlars bus stop for free in our electric assist cargo bike or by car.