Bike hire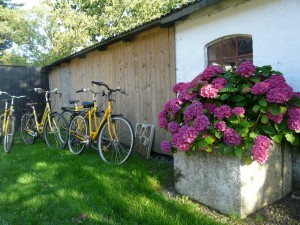 We can arrange cycle hire so they can be waiting here for you and be picked up when you leave – so avoiding a few complicated logistical challenges! There's always a few bikes around the place if you'd like to explore the largely traffic-free network of cycle ways and country lanes that can be accessed right next to our meadow.
Guided walks and tours

Phil is an experienced naturalist and amateur historian. For a deeper experience of Bornholm's unique natural and historical attractions, consider taking a tour with him. What you can do will depend on when you come to visit – it could be a dawn walk down the Kobbeå river in the spring and early summer, a summer boat tour to take in the sea birds on Christiansø or an autumnal evening tour to Bastemose to watch the cranes coming in to roost. Bornholms historic and archeological sites are beautiful all year round. Phil can show you the most stunning rock carvings, let you crawl into a passage grave or arrange a tour of Bornholm's castles or beautiful round churches. Phil is also very happy to help guests with their genealogical research on the island.
Pick up and collection
You would like to enjoy a car-free holiday on Bornholm, but are concerned about arrival or departure? For 200 kr we can collect you and your luggage from the airport or ferry. We can even take you to the supermarket, so you can stock up en route.
Alternatively, for free, we can collect your luggage from the nearest bus stop in Østerlars. On a sunny day we can transport your luggage (or your children) with our electric cargo bike, so you can enjoy a peaceful stroll to the house. If you are arriving late in the evening, we can even prepare you a welcome hamper, so you have all you need for a relaxed breakfast the next morning!