Happy New Year from Stavehøl!
It's been a long time since the last blog post, but we are still here and doing well. We had an excellent season in 2017 with lots of guests and the yurts and bell tents particularly busy. Despite some indifferent summer weather and the wettest autumn since the 1940s people really enjoyed staying with us and exploring all that Bornholm has to offer, which makes us all feel very warm inside because that's what we're here for.
So what's new at Stavehøl?
Our bell tents have new colourful covers and an extra inner tent lining to make them a little warmer. We took the stoves out of them as they were very difficult for most guests to operate and the smoke was damaging the fabric.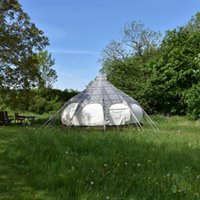 There's new lighting in the farmhouse and studio flats, so finding the right switch for the bathroom shouldn't be a problem any more! Comfortable new beds in the farmhouse flat with a freshly painted bathroom too.
We've also had Hans-Erik and Phil out filling potholes and smoothing out the road surface on our approach road. It's an endless task against the weather (especially after all of 2017's rain) but guests in 2018 should have a less bumpy welcome.
We've always offered the possibility of guided walks and tours, but take-up has always been low. So this year we will be making more of an effort to promote them and we will have a programme of different themed walks and car tours from May to September. In readiness Phil has been busy exploring beautifully obscure corners of Almindingen and tracking down some outstanding archaeological sites well off the well worn track.
Why Bornholm in 2018?
Of course Bornholm is always a great place to visit in almost all seasons (I wouldn't recommend a cold day of drizzle and wind in January though!) but this year there's two new reasons to come. The spectacular new visitor centre at Hammershus opens at Easter making the castle an all weather attraction for the first time and with an exciting new cafe, Bobbabella, run by the guys at Bornholm's Michelin starred restaurant, Kadeau.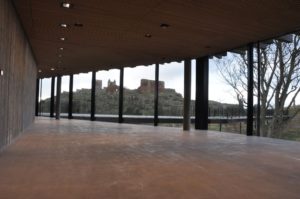 Ferry prices were lowered in 2017,  but from September 1 2018 a new ferry company – Mols Linjen – takes over with prices as low as 199 kr for a car and passengers from Ystad and new boats on all routes. Travellers from Germany will benefit a lot as ferries will run all year round on a new boat with lots more space for passengers and vehicles. You will be able to book from mid January 2018.
That's all for now and we promise to make our blog a lot more frequent in future, so come back soon and hope to see some of you here at Stavehøl in 2018.