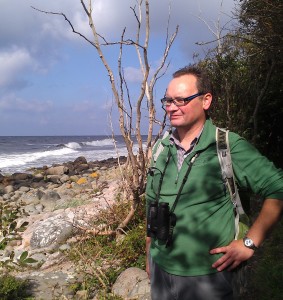 We are Katrin and Phil, a German/English couple who moved to the beautiful island of Bornholm some 5 years ago.
We are parents to 9 year-old twins Sammy and Jonas. Having spent life before children travelling the world to do long distance hiking and to lounge in hot springs, we now enjoy the ramble to our own river and down to the sea.
Phil is a keen naturalist who worked for the Royal Society for the Protection of Birds (RSPB – Europe's largest nature conservation charity) for over 20 years. Before spending 15 years working largely behind a computer trying to persuade the world to manage water more sustainably, he worked on nature reserves in wild corners of England and Wales. At last he has found somewhere to practice his almost forgotten chainsawing skills! He has a keen interest in archaeology and is hoping to show our visitors some of the amazing sites Bornholm has to offer in 2020.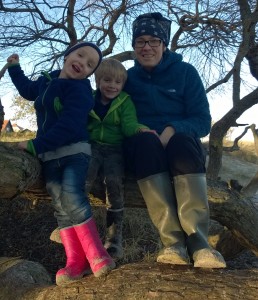 Katrin has been a university lecturer, cell biologist and a counsellor. When she is not busy working on the house and garden or training to be a SoSu Assistant, she enjoys working creatively and making Stavehøl even more beautiful.